1.4

Activities and Markets

Following the market's deterioration in 2015, the industry has seen a further slowdown in 2016 and sluggish movement on project approvals as expected. Activity was multi-tiered – on one hand previously sanctioned projects successfully started production, while new projects were delayed, revised or scrapped and some bids were sent back to the drawing board. CAPEX cuts by the major players sent a clear signal to the market that there would be no commitment on offshore CAPEX unless projects become economically viable within the context of the low oil price environment. In addition, unprofitable or near end-of-life fields had platforms decommissioned ahead of contract end, which had a positive impact of feeding the decommissioning sector of the industry.

The oil price was very volatile in 2016 – going to below US$ 30 in February – although it bounced back each time and seems to have steadied eventually between US$ 40 and US$ 50. A direct consequence was that no FPSO contract was awarded in 2016, solely FEEDs in particular the Liza development, subject to Final Investment Decision (FID), which was secured by SBM Offshore for its core FPSO business. This downward trend and absence of awards overall can also be applied to other products and services within SBM Offshore's portfolio such as Turret Mooring Systems, Semi-submersibles and TLPs. In addition Woodside Energy's Browse project was terminated – causing SBM Offshore to suspend its FEED activity and increasing uncertainty on potential future business activity overall for SBM Offshore in the large LNG turret business.


EPC AWARDS FORECASTS (COMPARISON)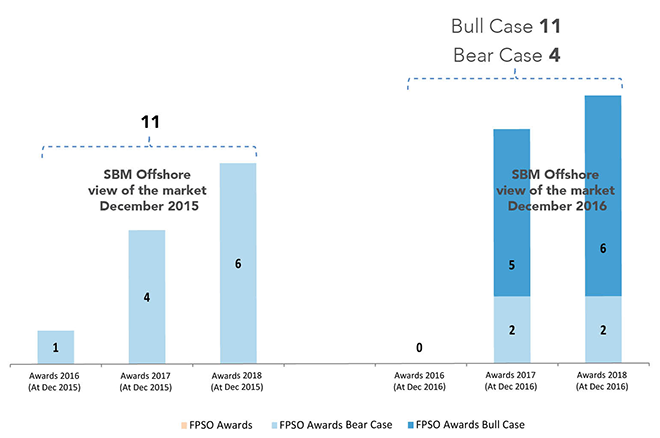 For context, at the 2016 Half-Year Earnings presentation to analysts, it was stated that SBM Offshore had revised downwards its expectations for industry awards in 2016 from 10 FPSOs to three units in a best case scenario and one unit in the worst case. At year end reality was one award in the industry to SBM Offshore, which is subject to FID by the client in 2017. It is believed that the current crisis will continue through 2017 as the industry slowly redresses. Management remains cautious on awards for the next two years.
The downturn proved that SBM Offshore's standardization FPSO project approach, Fast4Ward, is perfectly timed to be ready for future projects at a structurally lower oil price. Thanks to our unrivalled cumulative experience in both FPSO project execution and operations, the Company's management believes that Fast4Ward will give SBM Offshore a significant competitive advantage once the market picks up, as it will fast-track projects compared with the industry average and can significantly reduce CAPEX and OPEX costs, while providing clients earlier access to oil.
Although market stagnation continues, the predicted consolidation of the industry has only partially come to pass. Management believes that long-term structural change will alter the dynamics of the industry. Taking the opportunity of the downturn, the Company announced in May 2016 that it was dedicating further resources to the development of renewable energy solutions with the official launch of its floating wind technology at the industry OTC conference. The technology leverages its capabilities in the design of floating mooring solutions. In November, SBM Offshore was selected by EDF Energies Nouvelles to provide its proprietary floating systems for offshore wind turbines for a pilot wind farm offshore France. The project is subject to achieving committed financing.
Driving the oil price volatility were several factors – economic and geopolitical developments, supply ramp-ups by producers in different locations, OPEC negotiations and commodity traders hedging the oil supply. At year-end a very cautious industry has emerged with many projects waiting on the sideline for project breakeven points to change. The future is dependent on oil prices stabilizing and costs decreasing further. For the latter element contractors like SBM Offshore have a role to play and the Company is advancing with innovative ways to reduce costs for clients.

SBM Offshore Activities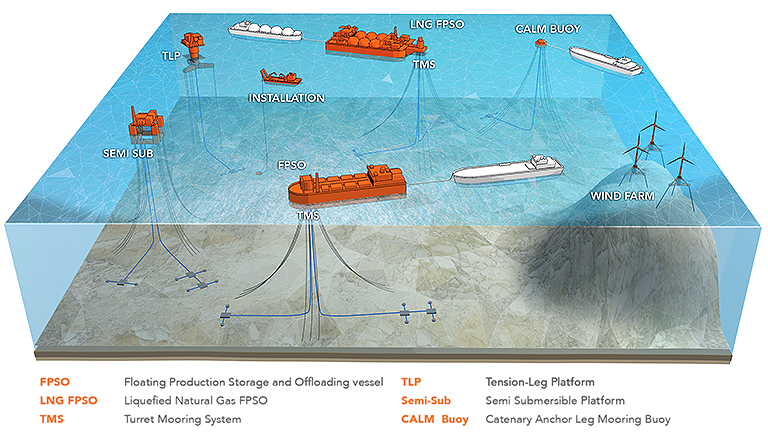 2016 Performance
SBM Offshore continues to be active in the following market segments: FPSOs, Semi-submersibles, TLPs and Turret Mooring Systems with the main focus on the lease and operation of its fleet of FPSOs. They are either wholly owned or through Joint Ventures with key partners.
In 2016 the Company executed and achieved completion on its FPSO projects in line with contract obligations, while ensuring that clients' expectations were met and also made significant progress on turnkey projects.
The major projects included:
Delivery of three

FPSO

s with first-oil achieved. Lease and operate contracts began when operations commenced offshore Brazil and

US Gulf

of Mexico
Progress towards the delivery of two turnkey projects for large turrets – Ichthys and Prelude
Work also advanced on several FEEDs, which represents a promising sign for future potential projects. Management believes that the Company can leverage its expertise and experience – particularly in this critical preparatory stage – to help advance clients' projects to the next stage.
Of note are multiple awards for Front End Engineering Design (FEED) projects that show the confidence operators have in SBM Offshore's track record to engineer a wide range of floating production solutions. 
Green shoots in ultra-deep water are encouraging and SBM Offshore continues to play its leadership role in this domain by working with clients to pioneer new technologies to break down industry barriers.
future
2018-2023 Market recovery
SBM Offshore firmly believes that once the market picks up – a cautious prediction for 2018 – the Company will be well-placed to be the contractor of choice for future projects. The Company is accordingly preparing for a base scenario (pick-up in demand) as well as for alternative scenarios (lower costs and renewable energy). Going forward the Company is gearing for growth – getting ready in the next years to set the base for long-term growth.

Historical and Estimated Total Market Awards